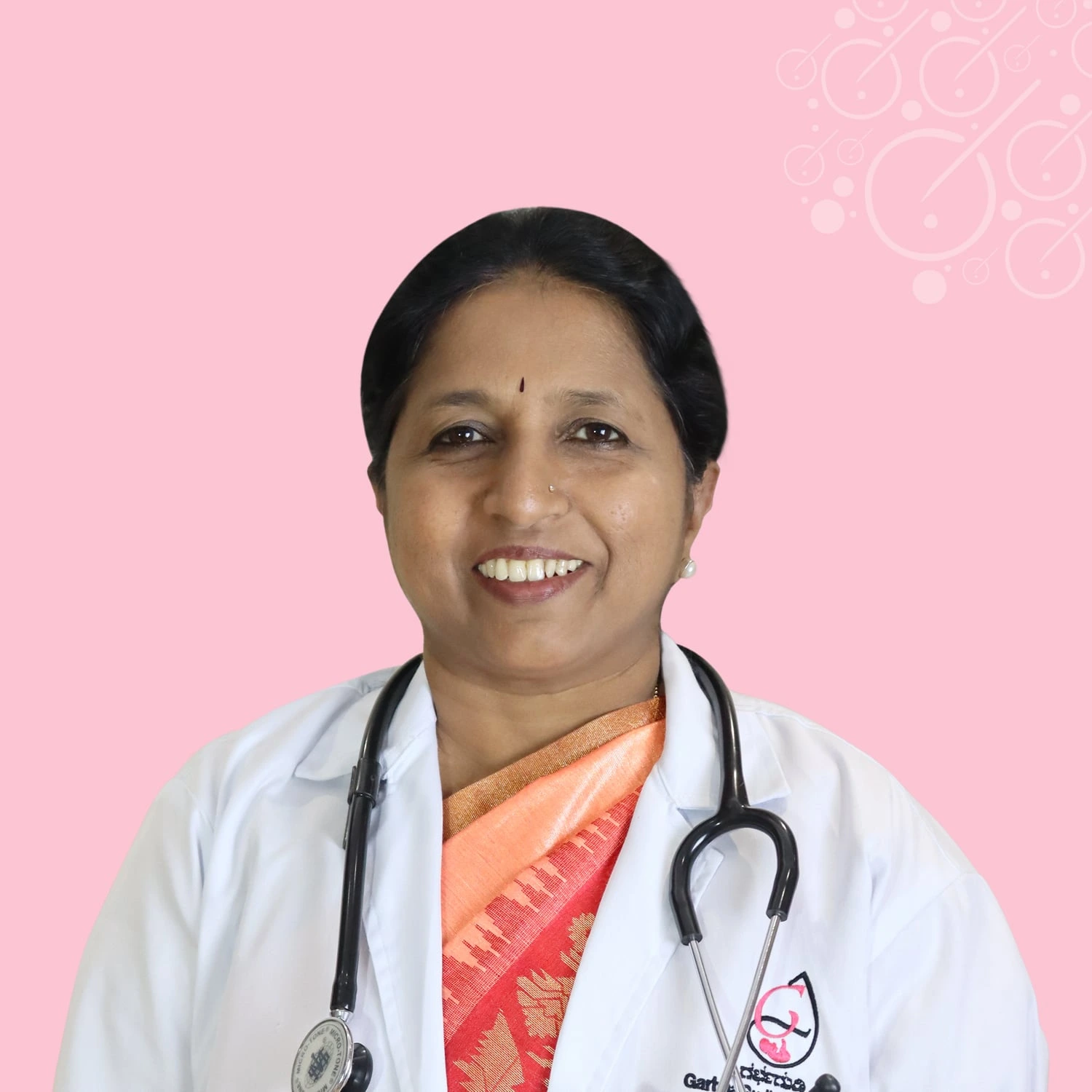 Dr Asha S Vijay
MBBS, DGO-DNB
Dean & Scientific Director - GGIRHR
Dr Asha S Vijay – A doyen in the field of infertility treatment, a proficient academician, an accomplished entrepreneur and a social visionary !!!
Dr Asha has well over two decades of experience in the fields of obstetrics, gynaecology and infertility. She is a well-known name in infertility – both in treating patients and also in infertility education. Many consider her as a medical genius with an overarching vision to eradicate infertility. 
Dr Asha has been instrumental in creating happy endings in the lives of more than 7000+ couples, by ensuring they have a child of their own. With her immense knowledge, expertise, skills and cutting-edge medical technology, she has been able to produce extraordinary success rates in the field of infertility. She is highly dedicated to her vision and leaves no stone unturned to ensure that the couple can take home a healthy baby and enjoy parenthood.
Dr Asha S Vijay has undergone specialized training in the field of infertility at the following Centers
> Bangalore Assisted Conception Center under the guidance of Dr Kamini Rao.
> Reliance ART Foundation under the guidance of Dr Ameet Patki.
> Hands-on Training at EART Mumbai
Dr Asha has received several awards and has been felicitated by some of the leading organizations
> Patient Satisfaction & Excellence award – ElaWoman
> FKCCI & Riovera women achievers Award
> Women Achiever award -COWE – By Union Minister of Govt. of India
> Rotary Rajyothsava Award 2019
> Radiant Infinitheist Award
> KSRTC – Association felicitation on Woman's Day 2018 
Her Journey, Vision and Mission
Growing up, Dr Asha always wanted to be a doctor and serve society, and hers is a story of hard work, overcoming stiff challenges and impediments. She has demonstrated a razor-sharp focus on what she wants to achieve and usually aligns it with the greater good.
Dr Asha graduated in Medicine from the prestigious Bangalore Medical College and started her career with Kidwai Institute of Oncology, Bangalore, as a senior resident doctor. She then completed her post-graduation in Obstetrics & Gynecology in the year 1996 from Bangalore Medical College. Dr Asha set up her own practice with 'Sannidhi Multi-Specialty Hospital". Over time, she gained enormous experience in the field of Gynecology & Infertility. Over the course of 15 years of dealing with gynaecology, obstetrics, and fertility issues as part of her practice, she made it her life's purpose to try and address the scourge of infertility.
She knew that people with reproductive disorders were clueless about whom to approach and, how to decide about the treatment they have to adopt, how to manage the costs etc. She also noticed that in many cases, the causes of infertility often went undiagnosed, and in most cases, the couples did not get the right treatment at the right time. Even if they did get it, the treatment would be highly expensive with low success rates and barely within the reach of a middle-class family. It was then that Dr Asha, along with a team of first-generation entrepreneurs, decided to approach the problem holistically – to provide world-class treatment and services at affordable costs.
Thus, GarbhaGudi IVF was born!
Founder – GarbhaGudi IVF Centre
Dr Asha Vijay founded GarbhaGudi IVF Centre in 2011 to provide holistic world-class fertility treatment at affordable cost. success rate
Since then, there has been much progress towards this vision because of the founders' commitment, abilities, and determination to build a strong, value-based organization. GarbhaGudi's hand-picked team of fertility specialists, includes highly capable gynaecologists, embryologists, technicians, and staff. They work closely with patients to develop a personalized fertility treatment plan and offer fertility treatments like IUI, IVF, donor programs, advanced treatment options like ERA, PGD, sequential transfers and much more. Today, GarbhaGudi's stands at over 65%, which is one of the highest in the industry.
Founder – GGIRHR (GarbhaGudi Institute of Reproductive Health and Research)
Dr Asha is the Dean and Scientific Director of GGIRHR, a premier institute in the field of reproductive health training and research
This institution provides top-notch training in the field of infertility. It offers a wide choice of online and offline courses which provide phenomenal learning and upskilling opportunities to gynaecologists, medical students, urologists, science graduates, and para-medical staff. GGIRHR's primary aim has been to share the rich expertise and success in infertility and reproductive technologies of the parent organization – GarbhaGudi IVF.
Founder Trustee of GarbhaGnan Foundation
Dr Asha is part of the founding trustees of GarbhaGnan Foundation, a trust that is established for fulfilling the corporate social responsibility of the GarbhaGudi group. The aim is to help the economically weaker sections of the society in getting infertility treatment, educate and train doctors practising in rural areas to address infertility in the right way, at the right time.
Dr Asha Vijay is a guiding light and has illuminated the lives of many childless couples.  She is kind, dedicated and a visionary. She is a true inspiration for all whose lives she touches.
Infinitheism, a well-known school of philosophy, has played a key role in Dr Asha's life. Mahatria, the founder of Inifinitheism, has been a lighthouse in Dr Asha's life-giving her the direction, tools and inspiration to make it very big in life, peacefully. The teachings of Mahatria have been the key standpoints in the life of Dr Asha and also of the GarbhaGudi group of companies.